Hydrogen as an alternative fuel is the future of electromobility. However, it is also a topic that brings with it a number of challenges that companies must master. That's why e-mobility company Quantron AG and hydrogen specialist H2Go GmbH have now joined forces to pool the knowledge and expertise of both companies to offer a total package of hydrogen mobility solutions.

The joint service and product offering consists of commercial vehicles powered by hydrogen, customized hydrogen logistics and infrastructure, customer consulting and the creation of customer-specific holistic hydrogen roadmaps. H2Go and QUANTRON compile customized solutions from the joint modular system of products and services.

Andreas Haller, CEO of Quantron AG: "We at QUANTRON not only offer our customers zero-emission vehicles, but also support them in all essential areas related to electromobility and hydrogen. The cooperation with H2Go is an important part of our fully comprehensive service offering."
Axel Poblotzki, Managing Director of H2Go GmbH: "Through the cooperation concluded with QUANTRON, we can now offer our joint customers and partners a complete hydrogen ecosystem for commercial vehicles by linking vehicle and infrastructure expertise in a meaningful way. In doing so, we have the positive effects on regional and supraregional value chains in mind."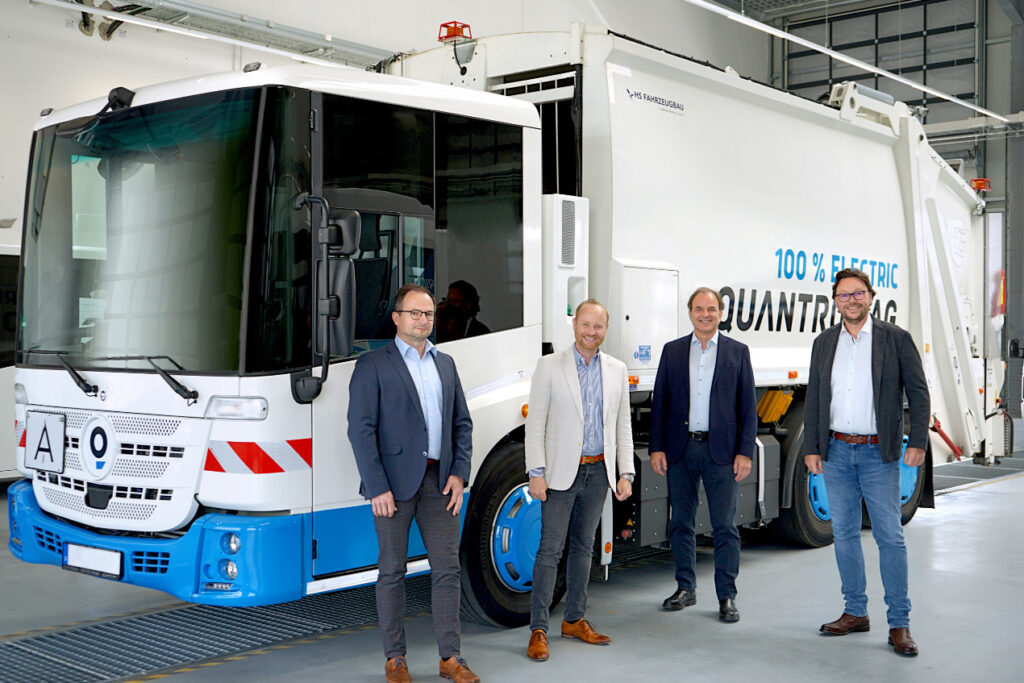 About H2Go GmbH
H2Go GmbH, as a 100% subsidiary of Hydrogentle GmbH, develops and realises projects around environmentally friendly produced green hydrogen for a CO2-free energy supply. The focus is on the creation of intelligent networks from the production of green hydrogen, its distribution and the corresponding filling station infrastructure. The company's goal is to position the sustainable energy carrier economically on the market and thus to contribute to the large-scale establishment of the use of green hydrogen and thus to the decarbonisation of commercial vehicle fleets.

For more information, please visit www.h2-go.net and www.hydrogentle.de.
Visit Hydrogentle/H2Gol on LinkedIn
Contact person:
Dipl.-Ing. Axel Poblotzki, Managing Director, info@h2-go.net, +49 (0) 40 2841757221
About Quantron AG
Quantron AG is a system provider of clean battery and hydrogen-powered e-mobility for commercial vehicles such as trucks, buses and vans. In addition to new electric vehicles, the wide range of services offered by the innovation forge includes the electrification of used and existing vehicles, the creation of individual overall concepts including the appropriate charging infrastructure as well as rental, financing and leasing offers and driver training. Quantron AG also sells batteries and integrated customised electrification concepts to manufacturers of commercial vehicles, machinery and intralogistics vehicles. The German company from Augsburg in Bavaria is a pioneer and innovation driver for e-mobility in passenger, transport and freight traffic. It has a network of 700 service partners and the comprehensive knowledge of qualified experts in the fields of power electronics and battery technology, through its cooperation with CATL, the world's largest battery producer. Quantron AG, as a high-tech spin-off of the renowned Haller GmbH, combines 138 years of commercial vehicle experience with state-of-the-art e-mobility know-how.
You can find more information at www.quantron.net
Visit the Quantron AG on its social media channels on LinkedIn and YouTube.
Your contact:
Volker Seitz, CCO Quantron AG, press@quantron.net, +49 (0) 821 78 98 40 86